Alumni offer new scholarship to Chinese students
Date
Tuesday, 3 November 2015
Dean Steef van de Velde and two alumni from Rotterdam School of Management, Erasmus University (RSM) and Erasmus School of Economics (ESE) signed an agreement for the EkoBaby Scholarship. This new scholarship of € 3,000 allows a Chinese student to start or continue their studies at one of Erasmus University Rotterdam's programmes each year.
---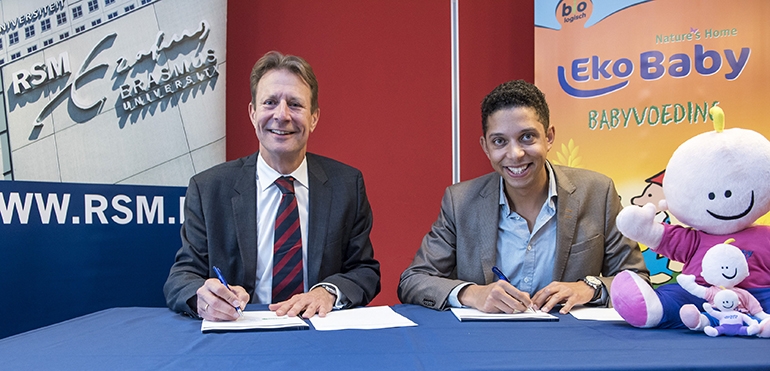 ---
Alumnus Jan-Paul Vegt graduated from RSM's MSc in Finance & Investments in 2009. He partnered up with Yonggao Liu, who completed ESE's Master Marketing, which is part of the Master in Economics and Business, the same year. They started up G&D Europe B.V., exporting products to China, such as EkoBaby milkpowder.
EkoBaby Scholarship
Vegt and Liu consider the education at Erasmus University Rotterdam (EUR) the base of their organisation's success. The alumni decided to pay this forward by creating a scholarship that would give Chinese students the opportunity to study at EUR for a solid foundation towards a successful career. "We want to give something back to the university because this is the place where our journey has started," said Vegt. With RSM, Vegt and Liu have launched the EkoBaby Scholarship, providing a Chinese bachelor student € 3,000 a year to study at the university.
Focusing on studies
Many Chinese students struggle to fund living expenses and tuition fees, which can force them to return to China before completing their academic programme. The first EkoBaby scholarship has been awarded to Yinqiao Li, who will now be able to continue his study International Bachelor Economics and Business Economics at ESE.
"This scholarship means a lot to me," said Li, adding that it releases the burden of his family to a great extent. "I can now focus more on my studies. After graduation I would like to do an internship here in the Netherlands, preferably in the financial sector or in the financial department of a firm."
Successful entrepreneurs
"EUR offers high-class academic programmes for Dutch and international students," said Vegt. "EUR also encourages students to think open minded, which can lead to successful entrepreneurs. We hope that students are inspired by our scholarship and that they realise that when you work hard anything can be achieved."
With their future business success, Vegt and Liu hope to create more scholarships. For more information about developing scholarships, please contact Nicole Eshuis at rsmfund@rsm.nl.
More information
Rotterdam School of Management, Erasmus University (RSM) is a top-tier European business school and ranked among the top three for research. RSM provides ground-breaking research and education furthering excellence in all aspects of management and is based in the international port city of Rotterdam – a vital nexus of business, logistics and trade. RSM's primary focus is on developing business leaders with international careers who carry their innovative mindset into a sustainable future thanks to a first-class range of bachelor, master, MBA, PhD and executive programmes. RSM also has an office in Taipei, Taiwan. www.rsm.nl
For more information on RSM or on this release, please contact Marianne Schouten, Media & Public Relations Manager for RSM, on +31 10 408 2877 or by email at mschouten@rsm.nl.
Type
Alumni , Bachelor / IBA , Companies , Homepage , International , Newsroom , Master , MBA
Related