Prof. Jan Dul receives USA human factors and ergonomics award
Date
Tuesday, 10 November 2015
This year's Hal W. Hendrick Distinguished International Colleague Award went to Jan Dul, Professor of Technology and Human Factors at Rotterdam School of Management, Erasmus University (RSM). The Human Factors and Ergonomics Society (HFES) hands out the annual award to honour non-US citizens for their outstanding academic contributions to the human factors and ergonomics field.
---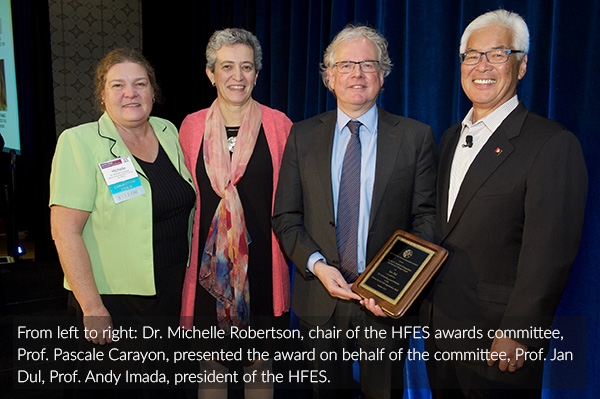 ---
Professor Dul's research focuses on human factors and ergonomics, and in particular, on the interaction between people and the physical and social environment. The HFES jury characterised Professor Dul as an active thought leader on the world stage whose academic contributions to his field are unique, far-ranging and impactful. They say: "Jan Dul's contributions to the field have been unique, far-ranging, and impactful. Although trained as a classical biomechanical ergonomist, he now specialises in the interaction between people and the technological and social-organisational environment."
His impact is particularly evident in the publication A strategy for human factors and ergonomics: developing the discipline and profession. This influential paper has been cited nearly 150 times in less than three years.
The jury also commended Professor Dul for being a true pioneer in working across disciplinary boundaries. "His outreach efforts spring from his belief that for ergonomics to have a real impact on society, we need to infiltrate other fields, not expect them to discover us," said the jury. "He has consulted with more than 50 companies to educate them on how properly designed and managed work environments can facilitate employee performance and well-being."
Linking work environment to productivity
Professor Jan Dul said he is delighted to win the award. "HFES is the world's most influential human factors and ergonomics society," he said. "I consider this a recognition for the work I have done to link human factors and ergonomics to business performance."
This is the second high-profile award Jan Dul received this year. In August, he received the 2015 IEA Distinguished Service Award, presented once every three years for outstanding contributions to the promotion, development and advancement of the International Ergonomics Association (IEA) and the profession.
More information
Rotterdam School of Management, Erasmus University (RSM) is a top-tier European business school and ranked among the top three for research. RSM provides ground-breaking research and education furthering excellence in all aspects of management and is based in the international port city of Rotterdam – a vital nexus of business, logistics and trade. RSM's primary focus is on developing business leaders with international careers who carry their innovative mindset into a sustainable future thanks to a first-class range of bachelor, master, MBA, PhD and executive programmes. RSM also has an office in Taipei, Taiwan. www.rsm.nl
For more information about RSM or this release, please contact Ramses Singeling, Media Officer for RSM, on +31 10 408 2877 or by email at singeling@rsm.nl.
Type
Alumni , Companies , Faculty & Research , Homepage , In the spotlight , International , Newsroom , Organisation and personnel management , Technology and operations management
Related