René de Koster's 20 years of full professorship celebrated with book
Date
Monday, 16 November 2015
During a festive ceremony, Professor René de Koster from Rotterdam School of Management, Erasmus University (RSM), was presented with a commemorative jubileumboek (anniversary book) documenting his achievements during his 20 years of full professorship at the business school. This milestone was celebrated during Logistica 2015, a trade fair for the supply chain and logistics industry, which took place in Jaarbeurs Utrecht on 10 November 2015.
---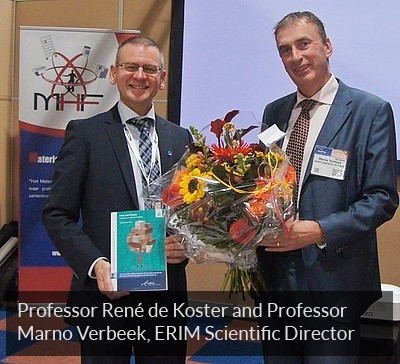 ---
The book, Past and Future: Perspectives on Material Handling, describes developments in material handling, which Prof. De Koster has been teaching during the 20 years of his full professorship. The authors took a retrospective look at the developments in material handling, and make predictions for the future.
The publication focuses on technical developments in the field, and also on insights collected into the impact of leadership and behaviour on operational performance in combination with systems and procedures. There are also several key representative papers included that have been used in courses on warehousing and material handling that highlight what has been learned and taught during this period.
Sustainability in material handling
Prof. De Koster has supervised 17 PhD candidates in those 20 years. "With several gifted PhD students we have been able to explore the control and design of automated guided vehicle systems, order picking methods, storage strategies, facility layouts, container terminal operations, and compact storage systems," said De Koster. "New research areas such as sustainability in material handling and the human factor in material handling have emerged."
A mini-seminar that took place during the commemoration ceremony at Logistica 2015 focused on innovation and practical solutions. RSM Professor Justin Jansen followed up with a talk about 'creating real success from a successful idea'. Professor De Koster concluded with some remarks about innovations in material handling over the past 20 years. ERIM Scientific Director, Professor Marno Verbeek, scientific director of the Erasmus Research Institute of Management (ERIM), presented Prof. De Koster with the book.
Connecting research and practice
"In academia, we are continuously interested in valorisation; strengthening the intersection of research and practice," said Prof. Verbeek. "René has been active in bringing researchers, practitioners and suppliers together. Throughout his tenure, he has experienced great impact on the dialogue and activity of the industry as documented in the creation and realisation of the Material Handling Forum," added the scientific director, and congratulated Prof. De Koster for his solid and inspiring research, industry enhancements, and collaborations that address current and future challenges.
Professor René de Koster
René de Koster is a professor of logistics and operations management in the Department of Technology and Operations Management at RSM. He is also a fellow of the Erasmus Research Institute of Management (ERIM) in the research programme Business Processes, Logistics and Information Systems (LIS).
After completing his PhD at Eindhoven University of Technology in 1988, De Koster worked as a consultant. He joined Erasmus University Rotterdam in 1995. Prof. De Koster's research interests are warehousing, material handling, sustainable logistics, behavioural operations and container terminal operations. He is the author and editor of eight books and more than 130 papers published in academic journals and books. He is on the editorial boards of several academic journals, including Journal of Operations Management, Operations Research, and Transportation Science (SI). He is a member of several international research advisory boards including the European Logistics Association (ELA); Bundesvereinigung Logistik (BVL) in Germany; and Association Internationale de Recherche en Logistique (AIRL) in France; and university supervisory boards: University of Pisa and Aalto University. He is the founder of the Material Handling Forum and chairman of Stichting Logistica.
Professor De Koster teaches in RSM programmes of all levels: bachelor, master, and executive development. He is also a guest lecturer at several other universities in the Netherlands, Belgium, China, and South Africa.
More information
Watch more about Prof. De Koster's research findings on RSM Discovery.
Rotterdam School of Management, Erasmus University (RSM) is a top-tier European business school and ranked among the top three for research. RSM provides ground-breaking research and education furthering excellence in all aspects of management and is based in the international port city of Rotterdam – a vital nexus of business, logistics and trade. RSM's primary focus is on developing business leaders with international careers who carry their innovative mindset into a sustainable future thanks to a first-class range of bachelor, master, MBA, PhD and executive programmes. RSM also has an office in Taipei, Taiwan. www.rsm.nl
For more information about RSM or this release, please contact Ramses Singeling, Media Officer for RSM, on +31 10 408 2877 or by email at singeling@rsm.nl.
Type
Alumni , Bachelor / Bedrijfskunde , Bachelor / IBA , Companies , Doctoral Programme , Parttime Master Bedrijfskunde , Executive education , Faculty & Research , Homepage , In the spotlight , International , Newsroom , Master , MBA , Technology and operations management , Intranet
Related