Career services
Whether you are looking to step up to more responsibility in your organisation, to move into a new function or geography, or even to launch your own venture, our Career Centre team are with you every step of the way.
We offer a range of services, from tailored workshops to company presentations, from individual career coaching and one-on-one professional development sessions with a mentor, to help you define your goals, and develop your leadership skills and tools.
Our objective is to empower you to meet yours.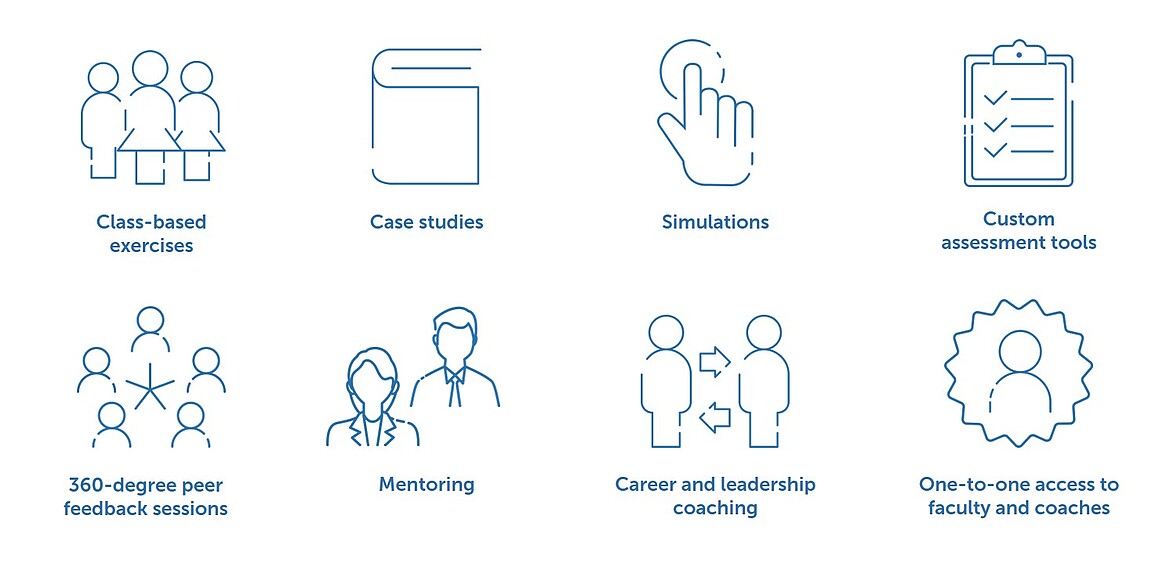 Alumni network
You're in good company.
Your journey at RSM does not end with graduation. On completing your EMBA successfully, you join our global RSM alumni community; a world-class network of nearly 50,000 change-makers. Our alumni span the globe and represent a diversity of industries and sectors.
We are a learning and support community offering all of our alumni a full schedule of services, from annual reunions to conferences, social events, educational sessions and discussion panels with experts. We also offer an exclusive service, RSM MentorMe, connecting current students with RSM alumni and to grow the spirit of RSM – to be a force for positive change that helps people and organisations to thrive worldwide.
Career development journey
From the outset, we will work with you to understand your objectives, realise your leadership potential and help you to build a roadmap that will lead to the right opportunities for you and your career.
Advancing as a leader means committing to four key objectives:
Reflecting on your own leadership style and building deep self-awareness
Understanding the market, global business and the opportunities that exist for you and for your business
Developing the leadership competencies and mindset to lead change confidently, effectively and responsibly
Building a world-class knowledge and support network to help you broaden your perspectives, and to accelerate your personal and professional development.

We're here to help you do this at every step of the way.
Throughout your EMBA and with the continuous support of our faculty, mentors, coaches and your peers, you will acquire new skills and understanding, put new ideas and approaches to the test, and accelerate your development and progress towards the next major professional challenge ahead of you.
A global business school, a global network.
You don't just join a cohort when you choose the RSM EMBA, you join a global network of 40,000+ talented professionals in more than 80 countries – connected to hundreds of leading organisations and employers all over the globe.
Our alumni network is a support community that continues to connect you to learning and professional development services long after the programme ends. From annual reunions to conferences, social events, educational sessions and discussion panels with experts, you always have the chance to rekindle old friendships, meet new people, refresh your knowledge, exchange ideas and pursue interesting new openings and opportunities.
The bonds you make at RSM will stay with you for life.