Three RSM professors among the Netherlands' top 40 economists
Date
Friday, 18 December 2020
Three professors from Rotterdam School of Management, Erasmus University (RSM) are among the most productive 40 economists in the country – and one of them is ranked fourth – according to Economisch Statistische Berichten (ESB), the most important policy economics magazine in the Netherlands. It published its Economists Top 40 – 'the Economics Summit' – for the 41st time on 17 December. The highest new entrant in the top 40 is at number 4: Professor Pursey Heugens, Vice Dean of Rotterdam School of Management, Erasmus University (RSM) who specialises in organisation theory, development, and change. Prof. Heugens had a particularly fruitful year in 2019 with two publications in the Journal of Management.
---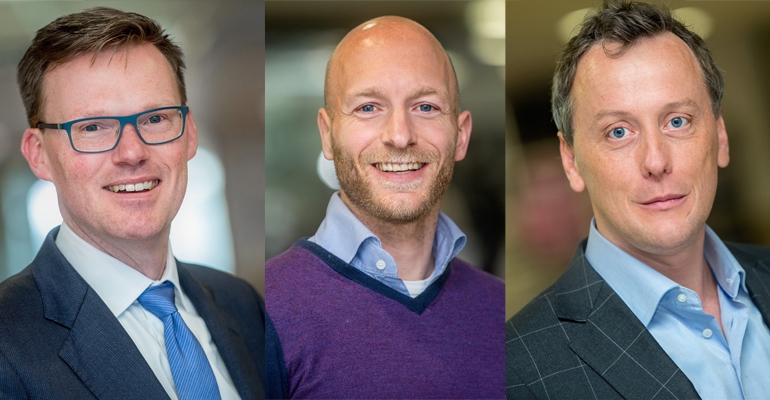 ---
The list of top economists is based on numbers of peer-reviewed articles published by Dutch economists between January 2015 and December 2019, and is designed to measure the impact of scientific research. Joining Prof. Heugens in the RSM trio are Professor Joep Cornelissen, professor of corporate communication and management at number 28, and Professor Marius van Dijke, professor of behavioural ethics, at number 40. Another eight researchers from Erasmus University Rotterdam (EUR) are also in the top 40. EUR has a good reputation for studies of human behaviour and is strongly research-driven; in fact it topped ESB's ranking for institutions this year in the field of management and economics, with RSM's academics making a significant contribution to that productivity.
Strong on social themes
Earlier this year, Wilfred Mijnhardt developed specialised software, the 'SDG Mapper' that enabled RSM to measure how much of its curriculum and research is related to the United Nations' 17 Sustainability Development Goals (SDGs) which underpin RSM's mission to be a force for positive change in the world. The SDG Mapper was developed to gather information that was used to measure RSM's impact in the latest BSIS assessment earlier this year. For example, the SDG Mapper shows that more than 75 per cent of RSM research is related to the SDGs. RSM's SDG Mapper indicates that publications considered in the collection of data for the Economics Summit contain research on important social themes. The appearance of the three RSM professors appearing among the top economists in the country also proves that RSM research is the result of committed and socially relevant productivity.
More information
Rotterdam School of Management, Erasmus University (RSM) is one of Europe's top-ranked business schools. RSM provides ground-breaking research and education furthering excellence in all aspects of management and is based in the international port city of Rotterdam – a vital nexus of business, logistics and trade. RSM's primary focus is on developing business leaders with international careers who can become a force for positive change by carrying their innovative mindset into a sustainable future. Our first-class range of bachelor, master, MBA, PhD and executive programmes encourage them to become critical, creative, caring and collaborative thinkers and doers. Study information and activities for future students, executives and alumni are also organised from the RSM office in Chengdu, China. www.rsm.nl
For more information about RSM or this release, please contact Marianne Schouten, communications manager for RSM, on +31 10 408 2877 or by email at mschouten@rsm.nl.
Type
Alumni , Bachelor / Bedrijfskunde , Bachelor / IBA , Business-Society Management , Companies , Executive education , Faculty & Research , Homepage , In the spotlight , International , Newsroom , Master , MBA , Organisation and personnel management , Sustainability , China , Positive change
---
Related links
Related