Five years of Top 250 Scaleups
Date
Friday, 11 June 2021
Top 250 Scaleups show that most fast-growing companies in the Netherlands are located in sectors at the intersection of digitalisation, services and marketing and media. The fifth edition of Top 250 Scaleups was presented on 1 June 2021, and is an initiative of Erasmus Centre for Entrepreneurship and nlgroeit. The province of North Holland leads the list with 90 companies, followed by the provinces of North Brabant (51) and South Holland (42). Of all the Top 250 Scaleups, only 5% has a female founder, a further decrease compared to the previous edition.
---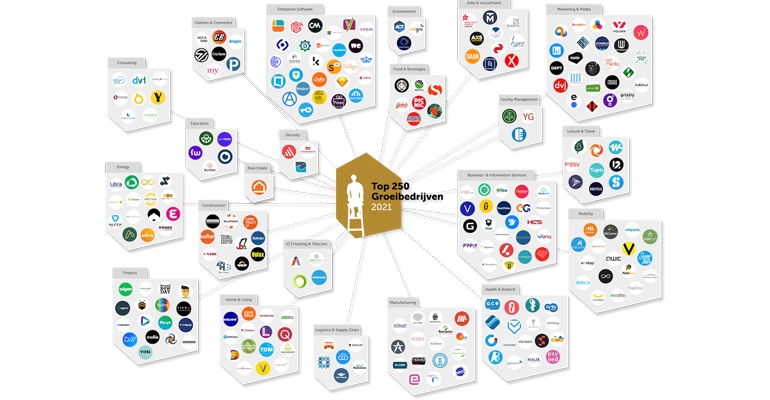 ---
This edition shows that fast-growing companies benefit from accelerated changes in customer demand and relationships, especially in the field of digitalisation as innovative revenue models were already implemented before the corona pandemic. "These companies are progressive in developing new solutions and also able to manage the high-growth of their organisation. They do this by continuously improving, accelerating and adapting the organisation to future challenges," says Prof. Justin Jansen, professor of entrepreneurship and academic director of the Erasmus Centre for Entrepreneurship.
Number 1 fast-growing company in the Netherlands
In the autumn, Erasmus Centre for Entrepreneurship and nlgroeit will present the Top 10. At this occasion, the Number 1 fast-growing company in the Netherlands and winner of the Golden Grower Award will be announced. Last year, this honour went to Takeaway.com. The food delivery company created 4,703 new jobs (in FTE) and thus grew the fastest in the 2020 edition. The 250 companies from the previous edition grew by more than 30,000 FTE overall.
Top 250 Scaleups in the Covid19-pandemic
While vulnerable to crises, scaleups can also be the quickest to recover from recessions and act as an engine for economic recovery. ''The 250 innovative companies represented in this report are the perfect examples of scaleups as an engine for economic recovery. In total, these scaleups have created about as many new jobs as the Top 250 Scaleups before the pandemic," said Martin Luxemburg, director of the Erasmus Centre for Entrepreneurship.
Growth capacity
Nlgroeit, an initiative of the Dutch Ministry of Economic Affairs and Climate, Chamber of Commerce, NLevator and NL2025, is a multi-year programme that aims to increase the growth capacity of small and medium-sized enterprises.
More information
Rotterdam School of Management, Erasmus University (RSM) is one of Europe's top-ranked business schools. RSM provides ground-breaking research and education furthering excellence in all aspects of management and is based in the international port city of Rotterdam – a vital nexus of business, logistics and trade. RSM's primary focus is on developing business leaders with international careers who can become a force for positive change by carrying their innovative mindset into a sustainable future. Our first-class range of bachelor, master, MBA, PhD and executive programmes encourage them to become critical, creative, caring and collaborative thinkers and doers. Study information and activities for future students, executives and alumni are also organised from the RSM office in Chengdu, China. www.rsm.nl
For more information about RSM or this release, please contact Erika Harriford-McLaren, communications manager for RSM, on +31 10 408 2877 or by email at harriford@rsm.nl.
Type
Alumni , Companies , Executive education , Faculty & Research , Homepage , Newsroom , Strategic management and entrepreneurship
Related