Resato International wins 2015 Erasmus Innovation Award
Date
Friday, 20 November 2015
Based on the results of this year's Erasmus Innovation Monitor, Resato International has been proclaimed the Netherlands' most innovative enterprise of 2015. Former Dutch prime minister Jan Peter Balkenende presented the 2015 Erasmus Innovation Award to the organisation during the Innovation Festival 2015 held at the Rotterdam Science Tower on Thursday 19 November 2015.
---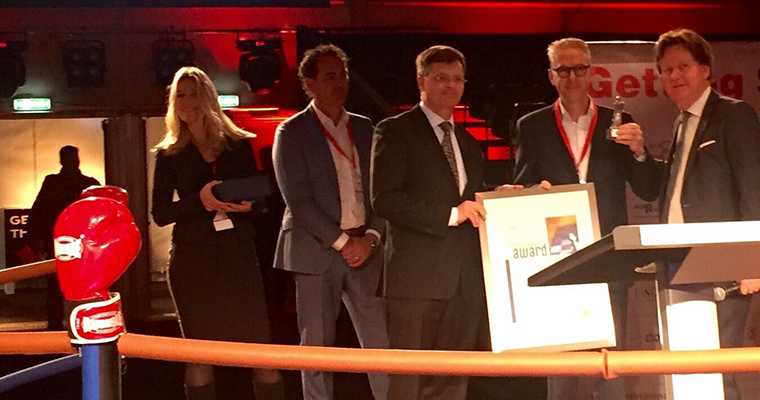 ---
Resato International develops and manufactures high-pressure components and systems. One of the solutions offered by the firm is the ACM waterjet cutting system. Resato's solutions are deployed in a wide range of sectors, including the oil, gas, marine and chemical industries.
Innovations into new markets

The firm scores exceptionally high on a number of innovation indicators. For example, the jury praises "the company's ability to develop new solutions in tandem with its entries into new markets." A good example of this approach is the development of Resato's ACM waterjet. Resato is one of the few parties worldwide to manufacture a solution of this category in-house. One of the judges called the company "an unsung champion of the Dutch industrial sector".
Complementing changes in technology and organisation

The panel also noted Resato International's transformation from a product-orientated to a more market-orientated organisation. In addition, the judges pointed out the firm's importance as a "major employer in the north of the Netherlands." According to jury chair Professor Henk Volberda, the Roden-based firm exemplifies the benefits of 'social innovation': Resato sets great store by giving its employees the opportunity to unfurl initiatives of their own, make mistakes and learn from them, share knowledge and expand their expertise. All in all, the winner of the 2015 Erasmus Innovation Award 2015 is a good example of how changes in technologies and the organisation can be made to complement one another.
Hanskamp AgroTech, TrackJack, and YoungCapital are other prominent examples of private-sector innovation. Based on the data collected in the 2015 edition of the annual Erasmus Competition and Innovation Monitor, desk research and interviews with company representatives, the aforementioned firms were nominated together with Resato International for the 2015 Erasmus Innovation Award.
The jury responsible for selecting the winner of the 2015 Erasmus Innovation Award 2015 was made up of:
Thomas Grosfeld – innovation and top sectors policy specialist at the Confederation of Netherlands Industry and Employers (VNO-NCW)
Mariëtte Hamer – president of the Social and Economic Council of the Netherlands (SER)
Theo Koster – director of NEVAT
Bertholt Leeftink - director-general of enterprise and innovation, Ministry of Economic Affairs
Frans van den Bosch – professor of management interfaces between organisations and environment at RSM
Henk Volberda – professor of strategic management and business policy at RSM
About the survey: the 2015 Erasmus Competition and Innovation Monitor

Since a number of years, INSCOPE – Research for Innovation has been performing the Erasmus Competition and Innovation Monitor under the supervision of Professor Henk Volberda. The objective of this annual survey is to map out – and encourage – innovation in the Netherlands. Prof. Volberda is affiliated with RSM's Department of Strategic Management & Entrepreneurship as professor of strategic management and business policy. In addition, Volberda serves as the Scientific Director of INSCOPE – Research for Innovation. INSCOPE is a leading research institute in the field of social innovation. Drawing up the survey questionnaire, the INSCOPE researchers referred to existing scales from the academic literature. A physical invitation to contribute to this survey was sent out to the senior management of some 10,000 organisations. The questionnaire was completed by a total of 563 respondents from a wide range of sectors, including wholesale & retail and catering (13%); agri, food and horticulture (11%); and construction and real estate (10%). www.inscope.nl
More information
Rotterdam School of Management, Erasmus University (RSM) is a top-tier European business school and ranked among the top three for research. RSM provides ground-breaking research and education furthering excellence in all aspects of management and is based in the international port city of Rotterdam – a vital nexus of business, logistics and trade. RSM's primary focus is on developing business leaders with international careers who carry their innovative mindset into a sustainable future thanks to a first-class range of bachelor, master, MBA, PhD and executive programmes. RSM also has an office in Taipei, Taiwan. www.rsm.nl
For more information about RSM or this release, please contact Marianne Schouten, Media & Public Relations Manager for RSM, on +31 10 408 2877 or by email at mschouten@rsm.nl.
Type
Companies , Executive education , Faculty & Research , Homepage , In the spotlight , Newsroom , Strategic management and entrepreneurship
Related