New executive programmes challenge professionals in unexpected business areas
Date
Monday, 16 September 2019
Fintech. Management for lawyers. A Nordic leadership expedition. Plus a broad range of sales, finance, leadership and other topics are covered in updated and new programmes for business professionals by Rotterdam School of Management, Erasmus University (RSM). Professionals at all levels – from young professionals to senior managers – can boost their careers in every industry, either on campus or in-company.
---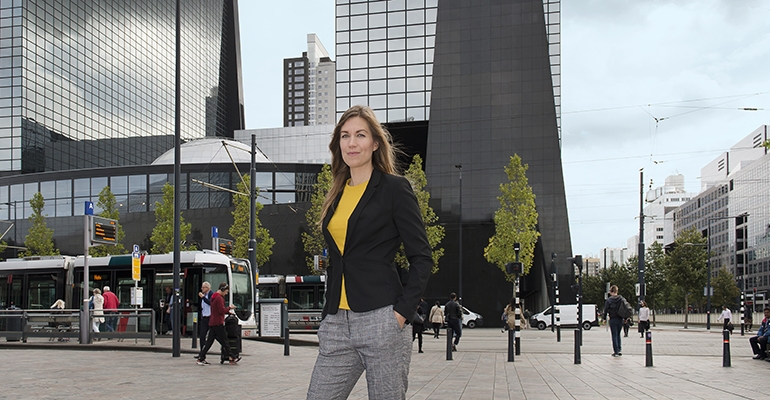 ---
"Trends in executive development are for developing talent that can manage and optimise current business while being able to change and innovate," says Professor Michael Page, Interim Dean of RSM Executive Education. "They need leaders, managers, and staff that can initiate change at the right time rather than merely react to situations that force change."
Dynamic learning environment
RSM's corporate courses are designed to develop participants' capabilities in volatile corporate landscapes that feature complex issues. The open enrolment programmes allow participants to learn from and network with other industries, and the customised and in-company programmes can be tailored to your company's needs.
Faculty members share their academic insight and real-world experiences in dynamic learning environments with professionals looking for new skills and knowledge.
New courses tackle leadership challenges
Existing and recently introduced programmes have been updated for business professionals to learn and network. New courses include: Management for Lawyers, Fintech: from Strategy to Implementation, Mastering Performance Management, The New Sales Manager, Port Executive Leadership Circle, and Nordic Leadership Expedition.
To help professionals in larger financial services firms to deal with the challenging field of financial technology, RSM developed the Fintech: from Strategy to Implementation programme.
"For the past few years, entrepreneurs and executives in banks have been very excited about these changes, which led to a large number of new companies entering the industry. But now the ecosystem is maturing. We are moving towards a whole new level of sophistication. The programme equips participants with real skills to create change in their organisations, and to work on innovations in finance," says Fintech industry pioneer and entrepreneur Daniel Liebau, who will lead the new programme.
Experiential learning in the wilderness
Another new addition to the portfolio is the Nordic Leadership Expedition. Leadership, coaching, experiential learning and the wilderness come together in the new, week-long programme. Learning outside of an office or classroom will teach participants how to lead more effectively and create an environment in which others – and they – can thrive.
"The programme will give people the skills and confidence of character to deal with issues in the moment," says Dr Hannes Leroy, scientific director of the Erasmus Centre for Leadership and lead faculty in the programme. "And strategic thinking happens, because it's not just about your own mental state; it's about the mental state of the whole team – developing strategies to lead over several days – dealing with predicted snowstorms, for example – and making sure everyone is motivated." The programme will take place twice in 2020.
More information
Rotterdam School of Management, Erasmus University (RSM) is one of Europe's top 10 business schools. RSM provides ground-breaking research and education furthering excellence in all aspects of management and is based in the international port city of Rotterdam – a vital nexus of business, logistics and trade. RSM's primary focus is on developing business leaders with international careers who can become a force for positive change by carrying their innovative mindset into a sustainable future. Our first-class range of bachelor, master, MBA, PhD and executive programmes encourage them to become critical, creative, caring and collaborative thinkers and doers. Study information and activities for future students, executives and alumni are also organised from the RSM office in Chengdu, China. www.rsm.nl
For more information about RSM or this release, please contact Marianne Schouten, communications manager for RSM, on +31 10 408 2877 or by email at mschouten@rsm.nl.
Type
Alumni , Companies , Parttime Master Bedrijfskunde , Executive education , Homepage , International , Newsroom , MBA , Intranet , EC for women and organisations , China
Related