High-energy conference reminds women to claim power in business
Date
Wednesday, 21 November 2018
The message of the 2018 Women in Leadership Conference was clear: Women's time in business is now, especially when they empower each other. The event-packed day blended workshops, networking opportunities, and a series of international and local speakers who captivated a capacity audience of 230 with a series of research-backed sessions that informed, entertained, and moved the attendees in equal parts. The conference was organised by the Erasmus Centre for Women and Organisations (ECWO), and took place at Rotterdam School of Management, Erasmus University (RSM) on 2 November 2018.
---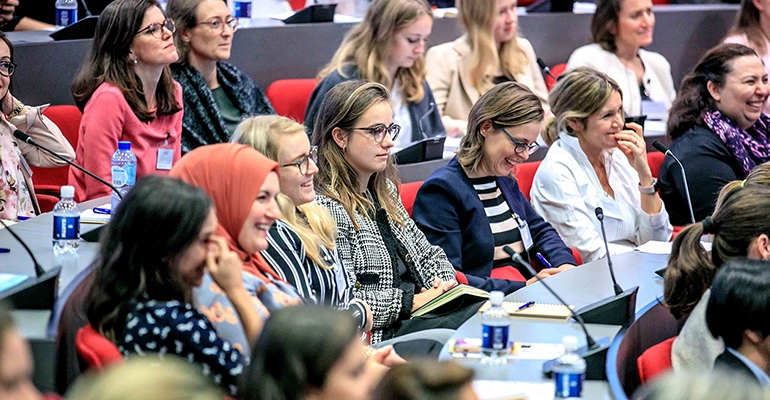 ---
Kristel Baele, the president of Erasmus University Rotterdam, opened the event with a strong speech. She called upon attendees to "take your place in history" by proactively changing the business world rather than passively waiting for change to happen organically.
"This is the third Women in Leadership Conference series, and I hope it does not reach its tenth. I hope it will be so normal that women are in leadership positions that conferences like this will not be needed. Becoming truly diverse takes time. It takes a long time for a big ship to change its course. But even the heaviest and largest ship will change course, will move its bow, if we keep moving the steering wheel."
Goldfish
"We live in a system that has been built by privileged men. They are goldfish, living in a fishbowl without noticing the water. The water is the system they benefit from every single day," said David Golden, senior vice-president of Eastman Chemical, the main industry sponsor of the conference.
Golden offered practical strategies for defining career goals, articulating motivation, and claiming power in business. He strongly encouraged the audience to leverage the power of the "ignored 50 per cent of the world's talent" saying he has "made a career out of surrounding himself with strong smart women. Remember this: your voice is never more important than when you are the only woman in the room."
Unconscious bias
Dr Wiley Davi used her own experiences of gender fluidity to address often-hidden biases. In a candid session that swung from hilarious to harrowing, Davi shared personal anecdotes to illustrate the "exhaustion" of not fitting into traditional gender roles.
After unpacking the words and behaviour we unconsciously use with each gender, Davi pointed out: "We have mental models of leaders: strong, masculine, and impenetrable. If there's incongruity, we glitch. It doesn't bother me if people are confused by me, I answer to either pronoun. It's the fallout, when [confusion and prejudice] limit my opportunities."
The 'fallout' described by Davi was echoed in the experiences shared by participants in the day's six workshops. Said one attendee of Navigating double bias: Ethnicity and Gender led by Prof. Semiha Denktas: "I come from a Chinese background, and I was asked if my parents own a restaurant." Another attendee said: "I'm Latvian, and someone asked my boyfriend if he bought me."
Be bold
Nicolien van den Biggelaar, partner at law firm De Brauw Blackstone Westbroek, shared her story of challenging the status quo in her session that asked 'Where are the women?' Like the rest of the day's speakers, Van den Biggelaar named instances of unconscious bias that she saw in her workplace, most notably her experience of starting at the firm as part of an equally gender-balanced group of recruits – a balance that dropped to zero women at partner level.
"In a 360 feedback session, I was criticised. Not for being a bad lawyer but for not organising enough social events ... Be bold. Seek the fame and glory. And do NOT take up the invisible work. Don't organise the social events, don't be the shoulder to cry on," said Van den Biggelaar.
We got one
Prof. Quinetta Roberson, who is Fred J. Springer Endowed Chair in Business Leadership at Villanova University, rounded off the plenary sessions with a laughter-filled and eye-opening perspective into diversity at board level.
Roberson's research showed that company performance actually drops when only one or two women are part of the senior leadership team. "One woman is tokenism – We got one! Two women often have to fight for the token position, distracting them from the real work. But three or more women – actually, 23 per cent of any business unit – is when we reach critical mass, and the bottom-line value of diversity begins to show."
High expectations exceeded
Participants' hopes for the conference were as diverse as the participants themselves. Michiel Rouw, logistics manager EMEA for Eastman Chemical, cheerfully admitted that he was well out of his comfort zone. "I'm that fish that doesn't notice water. Today I have learned a tremendous amount more about other human beings than I have in all other conferences I ever attended combined ... There are so many powerful women around; I will make sure to be an ally to people who might struggle with issues we discussed during the conference."
Kate Marson, a self-employed higher education teacher: "My expectations were surpassed. I was not expecting such a large number of attendees, nor to feel so hugely inspired by the speakers. Joan Eishen's workshop Building your profile in a male-dominated environment was excellent … Not only was she an excellent, high-energy and charismatic speaker, but she had some great tips on how us women can brand ourselves, and how this might change throughout the course of our lives."
Owner of Fit & Fabulous Moms Johanne Bade was delighted with the "energy in the atmosphere ... I expected a room full of women looking to better themselves, to leave their mark on the world and a day full of stimulating speakers and workshops. My hopes were definitely fulfilled!"
More information
ECWO
The Erasmus Centre for Women and Organisations (ECWO) is part of Rotterdam School of Management, Erasmus University (RSM) and offers masterclasses and coaching sessions, some specifically for women in business, for example the two-day Women in Leadership programme running in May or September 2019. www.rsm.nl/ecwo
Rotterdam School of Management, Erasmus University (RSM) is one of Europe's top 10 business schools. RSM provides ground-breaking research and education furthering excellence in all aspects of management and is based in the international port city of Rotterdam – a vital nexus of business, logistics and trade. RSM's primary focus is on developing business leaders with international careers who can become a force for positive change by carrying their innovative mindset into a sustainable future. Our first-class range of bachelor, master, MBA, PhD and executive programmes encourage them to become critical, creative, caring and collaborative thinkers and doers. Study information and activities for future students, executives and alumni are also organised from the RSM office in Chengdu, China. www.rsm.nl
For more information about RSM or this release, please contact Marianne Schouten, communications manager for RSM, on +31 10 408 2877 or by email at mschouten@rsm.nl.
Type
Alumni , Business-Society Management , Companies , Faculty & Research , Homepage , International , Newsroom , MBA , Strategic management and entrepreneurship , Technology and operations management , EC for women and organisations , China , Positive change
Related